Playlist for Lost & Found with Mark Francis, 10/31/2005
I'm not a big "theme show" guy, but when the show falls on Halloween day itself, there are certain obligations to be met! Had lots of fun, we checked out different approaches to dark themes, and I couldn't decide if I wanted to do a bad Bela Lugosi impression or not! As always, fully illustrated playlist and link to archived MP3 of the entire show is available at http://www.groovetime.blogspot.com
Please donate to WMBR this week, at any time - but especially during Lost & Found, if you are a fan! Thanks!
- Mark
Playlist for Lost & Found, 10/31/05
title/artist/format/label/year
Set One: which witch is which?
Intro: Theme from "Dark Shadows"/Original Television Score/LP/Phillips/1969
1. You Must Be a Witch/Lollipop Shoppe/CD/Uni/1968
2. Sorcerer of Isis (Ritual of the Mole)/Power of Zeus/LP/Rare Earth/1971
3. Frankenstein meets Blackenstein/Midnight Movers Unltd/LP/Buddah/1974
4. Earth Creature/Boobie Knight & the Universal Lady/LP/Dakar/1974
5. Maggot Brain/Funkadelic/LP/Westbound/1971
6. Isle of Sirens/Impressions/LP/ABC/1967
7. Mystic Eye/Them/LP/Parrot/1965
8. He's Waitin'/Sonics/CD/Etiquette/1966
9. Season of the Witch/Julie Driscoll - Brian Auger/LP/Atco/1968
BED: Sho' Is Funky Down Here/James Brown/LP/King/1971
Set Two: beware the incantation
1. Devil is Watching You/Lightnin' Hopkins/LP/Vee Jay/1962
2. Mojo Hannah/Little Esther Phillips/LP/Atlantic/1962
3. Mojo Hannah/Underdogs/45/VIP/1966
4. Cold Dark Night/Charlie Feathers/LP/Barrelhouse/1969-1979
5. Long Back Veil/Johnny Cash/LP/Columbia/1965
6. The Woman in Black/Gene Vincent/LP/Kama Sutra/1970
7. Voodoo Village/Tony Joe White/LP/Warner Bros/1971
BED: Spooky/Howard Roberts/LP/Capitol/1968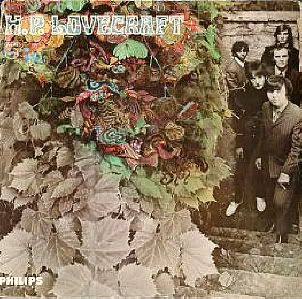 Set Three: reflections of the dead
1. In the Twilight Zone/Astors/CD/Stax/1964
2. Zombie Stomp/Danny Ware/LP/REL/1964
3. Born Under a Bad Sign/Big Mama Thornton/LP/Mercury/1968
4. Spooky/Percy Sledge/LP/Atlantic/1968
BED: Sounds of the Witchdoctors/Mohawks/LP/Pama/1968
Set Four: invitation for evil - accepted
1. Evil/Troggs/LP/Fontana/1965
2. At the Mountains of Madness/H.P. Lovecraft/LP/Sundazed/1968-1995
3. Goddess of Death/St. John Green/LP/Flick Disc/1968
4. I Woke Up Screaming/Bobby Bland/LP/Duke-Edsel/1956-198?
5. Devil Eyes/Sheppards/45/King Tutt/196?-1976
BED & Send-Off: N.I.B./Black Sabbath/LP/Warner Bros/1970
Special Guests:
ummm...eh...oh! Dean Stockwell...and Orson Welles!